6/9/16 split view processor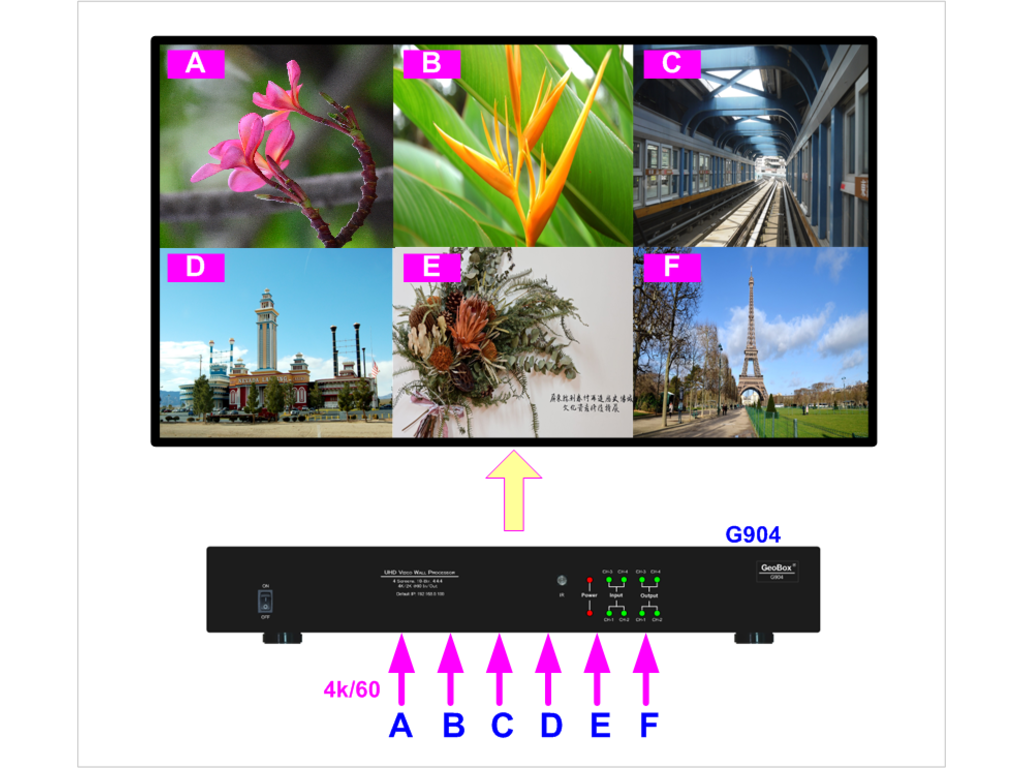 Description
G904 is quad channel multi-function signal processor with 8k/2k 30Hz, 4k/60Hz input and 4k/60Hz output. Each box can display all-in-one content across entire video wall as well as display discrete true 4k/60 content in four 4k monitor. Due to special system design, it is also served as multi-viewer to display up to 7 contents in one UHD monitor. Multiple units can be cascaded to build big scale display system as well as 4/6/9/16 split views MultiViewer.
Features
One G904 has four 4k/60 output channels. Each channel has 3x HDMI 2.0 inputs (one port is shared with another channel) and 1x HDMI 2.0 outputs. Input supports up to 4096*2160 @60Hz, 7680*2160 @30Hz with 4:4:4 chroma sampling. Two HDMI 2.0 loop out ports provide daisy chain connection for multiple unit cascade in large scale display system.
Programmable output supports up to 4096*2160 @60Hz output resolution in each channel. The range is from 800-4096 (with 8 Px/step under 230Mhz, 16 Px/step above 230MHz) in horizontal and 720-3840 (with 1 pixel/step) in vertical. The maximum pixel rate is limited to 600MHz. Output refresh rate is selectable from 24/30/50/60/100/120Hz. Various input sources and input timings are supported, including non-VESA standard input timings.
Through the combination of PIP/POP, G904 can serve as multi-viewer to display up to 7 images in one monitor (6 split views + one PIP). MultiViewer with 3/4 split views and 6 split views in one UHD monitor at portrait or landscape directions are standard applications in G904. Multiple units can build 6/9/12/16... split views image in one USD monitor.