Video Wall controller product selection guide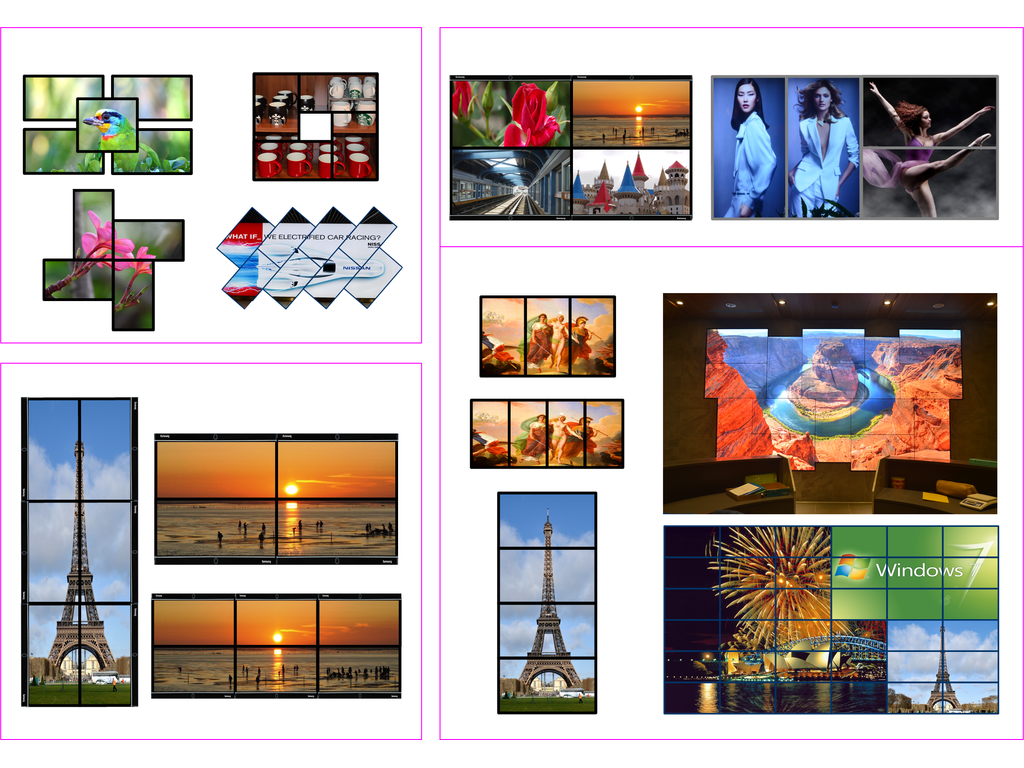 Description
G400 video wall controller controls 2-8 displays in one box. All controllers can be cascaded to support big scale display. It supports up to 8k/1k 30Hz input and 2048 x 1080 output resolution. Each output channel has independent image cropping, position adjustment and image 90/180/270 degree rotation (G413 can rotate image at any angle). It provides easy and flexible solution to build creative video wall with monitor at landscape, portrait or rotated at any angle.
G900 video wall controller, 8k/2k input, 4k/60 4:4:4 output, is the best partner for 4K monitor video wall. It can display all-in-one 4k/60 video wall as well as discrete content in each 4k/2k monitor with pixel to pixel video quality. MultiViewer function is integrated in G900. Maximum windows displayed in one monitor is up to fives. Multi-units can display 6/9/12/16 windows in one 4K/2K monitor. It is also an ideal front end processor to work with projector edge blending system, video wall and big scale display to provide PIP/POP, multi-window display and aspect ratio adjustment across entire display. G900 can crop HDR 10 bits image for LED wall as well as crop image and set overlap pixels for 4k projector edge blending system.
G900 is also one powerful scaler switcher. It can support up to 8k/4k input and scale down to desired output resolution. Programmable output resolution range is from 800-4096 (with 16 pixels/step) in horizontal and 720-3840 (with 1 pixel/step) in vertical.
GeoBox video wall controller is pure hardware system, easy-of-use, reliable and cost effective. All operations can be performed through remote controller, USB, RS232, or Ethernet. No additonal PC, other device or specific software tool is required.